News
Andy Peters-Smith appointed CEO of VCG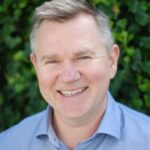 VCG is pleased to announce the appointment of Andy Peters-Smith as Chief Executive Officer.  Andy replaces Iain Lees, who is leaving after nine years with Vodat International, in his capacity as Chairman and more recently the CEO.
Following the merger of Axonex and Vodat International, the group launched a new identity in 2021, bringing together technical capability and cross-market expertise into a single unit, for an enhanced customer experience.
Prior to the appointment, Andy was the co-founder and Managing Director of Axonex, taking over the CIO role within the wider group following the merger in 2017. His technical leadership role included strategic direction, as well as technology and transformation programmes for key markets and enterprise level customers.
Andy has over 30 years' experience working in IT, of which 21 years as a Cisco CCIE. He brings a passion for defining innovative technology solutions to help solve critical business problems, leading with a customer first consultative approach and directing his teams to be trusted advisors to VCG customers.
Commenting on the appointment, Andy Peters-Smith said: 'Building on the market presence and expertise of both Axonex and Vodat International, VCG's technical capabilities as a trusted partner for technology services are transforming the performance of our customers in the marketplace.
I am looking forward to creating even more growth at VCG and increased added value for our customers and partners. We will continue to support businesses throughout their digital journeys and help them build a resilient, highly productive hybrid workplace.'