Connectivity
Business connectivity explained. Options for the digital workforce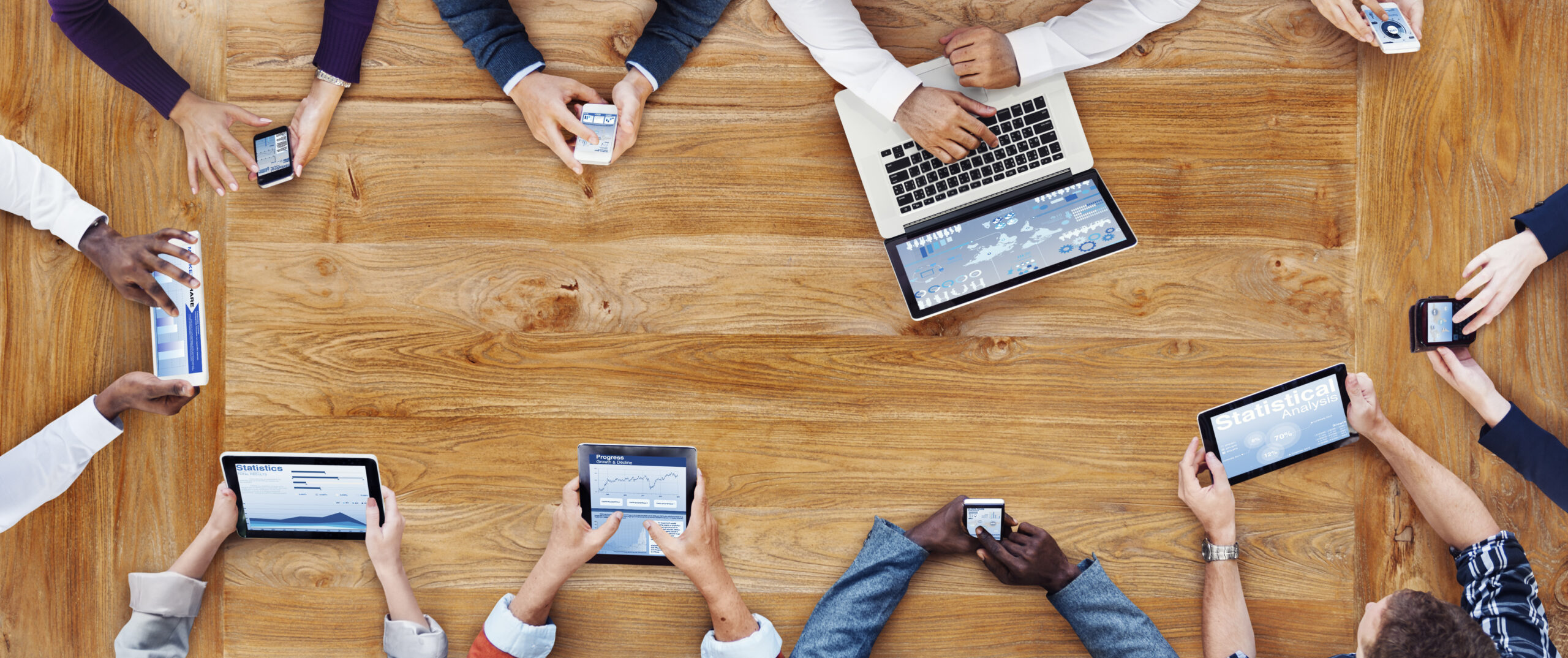 For small- and medium-sized businesses working across multiple sites, fast, reliable and robust connectivity is essential. Whether you use broadband to transfer data between offices, have customers connecting to WiFi in your premises, or need to send high-res images and videos as part of your everyday work, having the bandwidth, capacity and speeds to cope is key.
But how do you guarantee the speeds you need? Which type of connection is best for your business?
We take a look at the top three connectivity options for SMEs looking to increase speeds, shore up resiliency and keep their teams connected.
FULL FIBRE 
Full fibre is the evolution of fibre broadband. With traditional fibre broadband, lightning-fast fibre optic cables carry data to a local cabinet, and old copper cables carry it the rest of the way to the premises. The problem with the fibre-to-the-cabinet setup is that the copper wiring slows down the data before it reaches your office, so you've lost all the benefits of fibre by the time it gets to you. A full fibre connectivity solution is one in which the fibre optic cables run all the way to your building, delivering hyperfast connectivity all the way.
How can full fibre help my business?
As data becomes more central to the running of SMEs across all sectors, full fibre helps future-proof businesses by providing faster speeds and greater bandwidth more reliably. For businesses working across multiple sites and relying on cloud computing for things like CRM, data storage, business-critical applications and collaboration platforms, full fibre delivers the ultrafast speeds necessary to support free and constant access to data, applications and resources.
If you're a business that mixes legacy infrastructure with newer, cloud-based solutions, full fibre can help you deliver a consistent experience across your sites. When you've got teams that move between various premises, the last thing they want – or your business needs – is to have them spend the first half-an-hour trying to overcome the different tech issues that present in different offices. To boost their productivity – and your business's bottom line – full fibre ensures they can simply turn up at any site, connect to the network, and get on with the task at hand.
With full fibre, everyone, in every office, benefits from fast, uninterrupted access to data, emails, file transfers, VOIP telephony, videoconferencing and cloud-based services – all those things that keep your business running smoothly.
While access has generally been the biggest barrier for SMEs looking to connect with full fibre, a nationwide infrastructure upgrade is well underway and full fibre is becoming much more readily available.
Key benefits of full fibre
Fast: Download/upload speeds of up to 10Gbps
Symmetric speeds: Upload and download speeds are the same, so teams can send high-res files as quickly as they receive them
Low latency: No delays to data transfer, ensuring smoother collaboration and better-quality VoIP
Increased bandwidth: Seamless support for HD video, web conferencing, SIP trunking and file sharing
Cost-efficient: Fast, reliable connections resulting in massive productivity gains
MANAGED SD-WAN
Software-defined wide area network, or SD-WAN, is a dynamic, cloud-based connectivity infrastructure that builds on the strengths of software-defined networks to deliver seamless and robust connectivity across connection types.
When you've got lots of users sharing a single broadband connection, critical cloud applications like Office 365 can become sluggish. This negatively impacts on essential day-to-day operations like real-time communication through VoIP and videoconferencing applications, and results in productivity and reputational losses, not to mention employee frustrations.
SD-WAN aims to mitigate these problems by making automated routing decisions based on real-time traffic, and diversifying connections – including over broadband, MPLS, 4G and LTE – to provide more reliable, more robust connectivity. In this way, SD-WAN helps businesses to optimize internet connectivity between offices, as well as to the cloud.
How can SD-WAN help my business?
For SMEs and expanding businesses with multiple sites, SD-WAN is a great connectivity option as it creates better control and visibility into connections for data, applications, customers and workforces. Businesses using cloud-based services and utilising a remote or hybrid workforce are especially well served by SD-WAN connectivity as it routes traffic over multiple connection types to increase bandwidth and prioritise connections, ensuring your teams are always able to access the right tools and data.
Every business is different, and SD-WAN's application prioritisation ensures your critical applications, whatever and wherever they may be, are given precedence over less crucial ones, so that they run smoothly at all times. This makes SD-WAN an incredibly resilient option for business connectivity, too.
Another way SD-WAN can help small- and medium-sized business is by simplifying the network environment. Not all SMEs will have the dedicated IT teams or resources to monitor a multi-site network, and SD-WAN provides increased oversight and control through a central web-based console and gives administrators the ability to detect network changes, deploy new configurations and create and replicate routing policies across the network at the click of a button.
Couple this simplified network environment with its inherent reliability and super-fast speeds, and SD-WAN becomes a strong choice for SMEs looking to increase network agility and scalability while streamlining costs and enhancing budget predictability.
Key benefits of SD-WAN
Application-based traffic handling: Logical routing of traffic to maximise bandwidth and ensure network efficiency
Secure: Partitioning of mission-critical traffic and assets, and protection through next-gen firewalls, IPS, URL-filtering, malware and cloud security solutions
Reliable: Outages detected in real-time, with automatic switching to working links to reduce network downtime
Cost-efficient: Optimises current connections to reduce the need for costly add-ons, extras and alternatives
For more about SD-WAN and how it can help your business, see our handy SD-WAN fact sheet.
WAVELENGTH CONNECTIVITY 
What are the wavelength connectivity services ?
Wavelength connectivity is an emerging connectivity option that uses dense wavelength division multiplexing (DWDM) technology to transmit data across optical fibre cables. By harnessing the full potential of fibre optical networking, wavelength connectivity delivers high-capacity, highly-reliable, low latency connections on dedicated wavelengths, at speeds of up to 100Gbps.
An optical wavelength architecture helps expanding businesses to achieve speed-of-light data transfer between locations and has long-term strategic benefits due to its customisable nature. Wavelength connectivity supports SMEs to prepare for future growth while delivering high-capacity, low-latency services to simplify workflows, streamline operations and speed up innovation.
How can wavelength help my business?
For businesses looking to tie together the multiple strands of digital transformation, optical wavelength is a strong connectivity option. With speeds up to 100Gbps, wavelength is designed to deliver predictable capacity on a dedicated network, with routing predetermined and fixed to ensure the lowest possible latency. In short, it offers fast, efficient application access and large-volume data sharing over secure and private connections to help you boost productivity, reduce lag, scale quickly, and react instantly to changing network demands.
One of the major benefits of wavelength connectivity is that businesses have full control over their traffic speed, wavelength and other network protocols. Businesses, for example, that need occasional extra capacity to make huge data transfers or simultaneous high-definition video streaming will benefit from the ability to quickly scale up capacity and address traffic bottlenecks.
The private circuit aspect of wavelength is another major draw. Not only does it enable multi-site businesses to achieve maximum speeds and network reliability, it fosters an inherently more secure network environment: with data being transmitted by light through optical cables, it is hidden from sight for anybody outside of the network.
Data is critical to all businesses these days, not just in the gathering and storing, either. For SMEs looking to innovate and grow into the future, harvesting and analysing data from an increasing number of sources is essential, and wavelength offers ample bandwidth and security to handle and analyse data from distributed IT applications, legacy software, datacentres, cloud-based workloads, multi-site workforces and a myriad of Edge and IoT devices.
Key benefits of wavelength
Speed: Fast, efficient, low-latency connectivity over dedicated networks
Secure: Private circuit networks are built to safeguard sensitive and business-critical data
Reliability: High availability across cities, while keeping your traffic separated
Scalability: Choice of routes and access speeds up to 100Gbps
Cost-efficient: Low per-bit cost
The best connectivity choice for your business
The technologies that enable multi-cloud and multi-site connectivity are  changing rapidly, and there are several choices small businesses can look into in order to upgrade, migrate and modernise their infrastructure and make the business more resilient and ready for future challenges.
If you're looking to assess which way is best to connect your offices, our teams can help you better understand what is available for you to meet your business objectives and technology and application access requirements across users, sites and locations.
For more information, contact us at sales@vcg.group.