Managed Services
Five minutes with…Anthony Brennan-Hazell, Service Delivery Manager VCG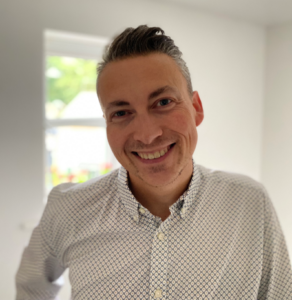 VCG provides seamless access to world-class cyber security, network infrastructure, data centre, unified communications and connectivity supported by managed services  – that are tailored to our clients' business needs and outcomes. We are committed to helping our customers thrive in an increasingly competitive landscape by creating agile, efficient IT solutions that are easy to consume and adapt and scale with your demanding growth requirements.
We adopt a 'customer first' approach and are committed to business outcomes and results. We align the right resource and capability to deliver the optimum customer experience whilst helping you build and maintain your competitive advantage through the use of world-class IT solutions.
In this article we will meet Anthony Brennan-Hazell, Service Delivery Manager (SDM)
Name: Anthony Brennan-Hazell, joined VCG in April 2021
1. What attracted you to the role of Service Delivery Manager (SDM)?
'I've enjoyed various roles in my 16 years working within IT Service Management, including managing 1st and 2nd line support teams. More recently I moved into Service Delivery which has allowed me to bring together two big passions of mine, assisting clients and providing the best service to help them grow their business.'
2. Why is the role of SDM so crucial?
'My key focus is on customer satisfaction, developing measurable KPIs used to drive improvement, which in turn will continue to build upon VCG's high customer service standards. The Service Delivery Team have regular interaction with customers helping build powerful and long-term partnerships.'
3. What makes the VCG team different?'
'VCG provides 24/7 specialist support for our customers and has a large in-house team to ensure that our customer's networks are always monitored and 'always on'.  As an experienced IT Managed Service Provider (MSP) with access to the latest technologies, we continue to emphasise maintaining certifications with vendors and developing our teams through technical training. VCG currently has six Apprentices working within our Customer Services team and has seen many Apprentices develop and grow into qualified and very valued team members throughout the business.'
4. Have you noticed any key trends or changes for the MSP in recent years?
'Yes, definitely and in particular since the Covid-19 Pandemic. Our customers need quick and efficient responses in order for them to operate efficiently and profitably. Cloud technologies are increasingly popular to assist with growth aspirations and as Security is often right at the centre of our customers' strategy, we often take a lead in planning the right steps and solutions to ensure that their business is protected.'
5. What do you think the next big focus will be post pandemic?
'Digital transformation is essential for the modern business, especially as remote and hybrid working has accelerated at a pace nobody could have anticipated. We will continue to work with each of our customers to ensure that a careful approach is taken when planning their transformation strategies. MSPs allow businesses to distribute much of the day-to-day maintenance and operation of infrastructure, network and other digital services – allowing their in-house IT leaders and teams to work on other key IT priorities.'
To find out more about VCG and how we can manage your networks with a 24/7 technical support service, contact the team today!
sales@vcg.group
0161 406 1860