Technology for Public Sector
Microsoft's New Commerce Experience explained
Microsoft is changing the way customers purchase and manage licenses through its Cloud Services Provider program. Our Microsoft Practice Lead Matt Gifford explains the New Commerce Experience, from cost implications to enhanced features.
What is NCE, and how does it impact businesses?
New Commerce Experience (NCE) is the latest advancement in Microsoft's CSP program. It is designed to support partner resellers like us to simplify and manage customer subscriptions for Microsoft 365, Dynamics 365, Windows 365, and Power Platform by offering licenses on a 'per seat' model. NCE will also help businesses mitigate upcoming price increases across Microsoft 365 licenses by building in discounts for those purchasing through a partner.
What does this mean?
The idea is to reduce licensing complexity and costs while providing flexibility to support a growing variety of customer needs. For businesses, NCE's streamlined pricing structure of monthly, annual, or 36-month subscription options – offers increased budget predictability and improved operational efficiencies, while delivering the flexibility to mix and match subscription types and licenses to ensure you're only paying for what you know you'll use.
The business benefits of NCE
Monthly subscription options
With the launch of NCE, Microsoft is introducing monthly subscription options to run alongside any existing annual subscriptions. This gives businesses the ability to add licenses on a short-term basis, either according to actual need or as a litmus test to determine requirements and usefulness. Monthly subscriptions are 20% more expensive than annual licenses, but for many businesses, the flexibility gains will outweigh the additional cost.
Savings on longer-term subscriptions
For businesses that know their long-term licensing requirements, NCE's 12- and 36-month subscription options represent an attractive cost-saving. Both options allow businesses to lock in the price for the stated term – giving protection against further price increases – while allowing for payment on either a monthly or annual basis to support budget predictability. Both longer-term subscriptions allow for seat-count increases, too, so your licenses can scale with your business.
Here to help
As a Microsoft CSP, and Gold Partner, VCG is here to help you navigate the New Commerce Experience. Working closely with Microsoft, we'll blend short- and long-term offers to give you the flexibility you need and ensure you're never paying for tools you don't use.
The introduction of the NCE is a perfect opportunity to audit your licensing and subscriptions, and our dedicated Microsoft technicians will help you consolidate and optimise your subscriptions for best-fit, streamlining your budget and making sure you've got all the tools you need to maximise the opportunities NCE presents.
For more about Microsoft's New Commerce Experience, take a look at our help/FAQ sheet.
Need support moving to the New Commerce Experience, feel free to contact me – info@vcg.group                                          

Bringing calls and team collaboration into a single platform - Microsoft Teams Direct Routing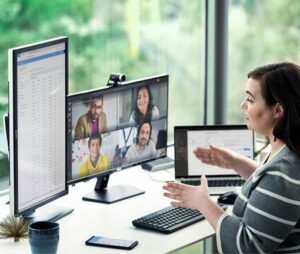 VCG is pleased to officially announce the capability to deliver direct routing for Microsoft Teams, allowing businesses to integrate calls and telephony services into the Microsoft Teams platform.
As part of our continuous investment in deploying solutions for the hybrid workplace, the new capability enhances more than just collaboration. It brings together a suite of options and technology stacks that help organisations reduce the application clutter and re-imagine the entire communications infrastructure.
Organisations can drive workplace collaboration through one digital hub where teams can meet, call and chat. Teams can be used to have instant conversations with team members or guests outside the organisation, all while having phone calls, hosting meetings and sharing files.
The value – making the most of your Microsoft tenancy
Microsoft Direct Routing is the service inside of Teams which allows organisations to connect external phone lines and use Microsoft Teams as an office phone system – enabling inbound and outbound calls from all over the world.
The capability allows customers to bring an existing number range, meaning that they don't need to change numbers or worry about contract dates on their Session Initiation Protocol (SIP) services. We can also point their SIP at the Session Border Controller (SBC) and then take over the SIP contract when it's up for renewal.
If you are already a Microsoft customer, the choice to integrate telephony into Microsoft Teams also means that you can overcome some of the key challenges that come with implementing new platforms or applications, such as user adoption and internal training. For businesses that wish to migrate to Microsoft Teams and make the most of their licenses and Microsoft tenancy, VCG can help map the transition journey, predict savings and design implementation requirements.
Microsoft Teams Direct Routing key benefits 
• Cost savings with local call traffic rates
• Billing automation
• Call reporting/recording functionality
• Full enterprise phone system features (auto attendants, call queues, presence- based routing)
• Integrate or displace legacy voice systems
• Improved video and call quality
• Audio conferencing functions in meetings.
• Flexibility to take your work number with you wherever you go, mobile, tablet, laptop, deskphone
As an established connectivity provider we have been delivering collaboration and enterprise-grade SIP services to small and enterprise level organisations for over 20 years; we've taken the time to understand the Microsoft Teams direct routing enablement end-to-end, so that we can offer our customers the best commercial value and ensure they can also benefit from cost savings and billing automation.
The capability to deliver Microsoft Teams Direct Routing, alongside our key solutions and managed support services, offers businesses the flexibility they need to bring more of their IT requirements with an end-to-end managed service partner.
So whether you need to assess your Microsoft licensing costs and benefits, integrate phone systems, migrate geographic or non-geographic numbers or simply transition away from Skype or other separate collaboration systems, we can help and guide you throughout your transformation journey.
With the launch of Teams Direct Routing, we now offer 30 minutes IT assessments to help you design best practices, customise your Microsoft Teams environment and switch on the power of teamwork in your organisation.
Contact our team today at sales@vcg.group to book your assessment and learn more about all our Microsoft Teams services.
VCG boost Customer Success Practice with Cisco's Advanced Customer Experience Specialization
The right IT solution has been planned, purchased, configured, delivered and implemented on time, but has the wider business perceived the investment as a success? Actually, many businesses will never see the full value of their IT investments from their solutions providers. With a transition to more cloud-based services and OPEX investments, the gap between the 'potential' outcome (whether that's user adoption, feature adoption, meeting time frames for deployment etc.)  vs. 'actual' is growing as organisations struggle to effectively adopt new cloud technologies. That's where customer success comes in.
So, what exactly does customer success mean for VCG, and more importantly, to our customers?
Put simply, customer success is a business methodology that ensures our customers get the most from VCG products and services. It starts by asking 'WHY?' What is driving this business change? From there, we use consistent, process-driven engagements, along with real-time data, analytics and automation to bring those business goals to reality, from point of purchase, through to technology adoption and renewals. To make this happen, VCG have made significant investments internally in training, process optimisation, and a suite of new tools, combined with 15 years of industry experience.
This isn't limited to new products or solutions; we understand business use cases change, and we review existing solution deployments to ensure our customers are adopting all of the relevant features and functionalities in the right way, and help them to expand these solutions successfully within their business. We also delivery regular technology strategies and roadmaps to ensure our customers have a clear vision.
We're pleased to say that VCG are one of only few Cisco partners to achieve Cisco's Advanced Customer Experience Specialization. With this accreditation VCG have demonstrated the ability to provide the highest level of service across all Cisco technologies and integrate this throughout our existing Customer Success Practice.