Experiencing new ways of driving business in retail: enhanced digital and in-store customer journeys
The pandemic has changed consumer behaviours, some permanently, reshaping the entire retail landscape; many customers have also tried new omnichannel models: buying online, picking up in-store (BOPIS) this grew 28% year-over-year in February compared with 18% in January, and grocery delivery up by 57%.
Consumers report high intention to continue using models such as BOPIS (56%) and grocery delivery (45%) after the pandemic.
COVID-19 has driven cloud spend up versus on-premises software spend down; this isn't surprising as organisations turn to SaaS to move apps and data to the cloud, as business shifts online.
Creating a future-ready technology ecosystem
Implementing the right IT platforms, network functions or systems in the right sequence can help improve the experience and serve the needs of shoppers, whether in-store or digitally.
This means that while sometimes the business case may seem like a simple implementation and technology decision, the reality of redesigning your network architecture and optimising services, applications and workflows can have several implications on operational efficiency and security if poorly applied.
Fast and secure access to cloud-based software
Retail networks require fast and secure access to cloud-based software, from anywhere at any time, from any number of locations. SD-WAN connectivity provides a single pane of glass that consolidates multi-vendor environments into one cohesive and connected platform.
Built on SD-WAN connectivity, a bespoke store network solution such as the one we developed for Poundland illustrates how this is achieved and the opportunities it provides such as: enabling fast, secure, and reliable access to cloud-based software that can be used from anywhere.
Enabling a consolidated customer journey
Solutions such as SD-WAN and secure wireless access to enterprise-class Wi-Fi for guests, side by side with business networks, can be a game-changer for retailers looking to secure omnichannel environments. Resilient network capabilities and in-store wireless access are key to achieving this.
Why VCG for retail?
Our expertise in the retail sector and multi-vendor relationships enable us to offer seamless solutions, unrivalled engineering capability, delivering technology for retail transformation at scale.
We provide industry-leading capabilities and a lower total cost of ownership when evaluating an acquisition, training costs, deployment, and operations. This helps decision-makers achieve business value, improve operational and cost efficiency and better manage transformational challenges.
Read more to find out how to strengthen or implement an enhanced in-store and online customer experience.
The British Heart Foundation
Business-grade connections for remote staff could be the answer to cutting costs and excelling in the new working environment
UK businesses have adapted enormously since the Covid-19 pandemic hit. Almost overnight, they were forced to send workforces home and establish new remote working protocols. So much about the infrastructure, processes, operations and technologies we relied on was forced to change and now looks unlikely to return to 'normal' anytime soon.
Many industries have suffered as their business ground to a halt while everyone remained indoors, and despite the loosening of lockdown restrictions, businesses are now faced with the economic aftermath of the pandemic, described by Chancellor Rishi Sunak as a 'recession like we've never seen'. This is undoubtedly a challenging time for business leaders, but its not all gloom and doom. For some, the pandemic has thrown up new opportunities and presented new ways of working that they would have been reluctant to accept if they had not been forced into trying them by lockdown. For example, Chief Executive of Barclays Bank, Jes Staley, made headlines a few weeks ago by speculating that having thousands of workers in expensive offices may be a thing of the past, and the bank is reviewing its 'location strategy' long term in the light of its operations during the pandemic.  So if a Big Five bank like Barclays can see the benefits of embracing remote working for its 70,000 global workforce, why not consider a similar model for your business?
We've all faced the frustrations that go with home-working; worries about security, frozen video conference screens and lack of speedy resolutions to connectivity issues, but for weeks now desks have remained empty while teams worked from home, highlighting that it is possible to collaborate closely with colleagues without being in the same location. So how about a bit of new thinking for the 'new normal'? Rather than looking to return to a centralised future and maintaining expensive offices, let's focus on a new solution: business-grade connectivity for homeworkers.
It's becoming increasingly clear that outlay on physical office space is better spent elsewhere. Empowering homeworking through business fibre lines for remote workers is an ideal strategy for UK businesses looking to save money and excel in the new normal. Installing business-grade connections for staff will cut OpEx and remove the common frustrations homeworkers experience with their residential connections. Of course, this is a major change in mindset but as our lockdown experience has proved we can adapt much more quickly than we thought possible when change is forced upon us. So now is the time to capitalise on the lessons we have learnt during the pandemic.
Investing now will put you ahead of the game in terms of connectivity and cost efficiencies, but let's not forget the reason we were locked down in the first place. While COVID-19 remains an issue remote working is the best way to protect the health of staff and protect your business against an uncertain future.
Already a number of cities in the UK have had restrictions re-imposed and it is likely that the winter will bring a new wave of chaos. Let's face it, humans are sociable creatures so I can't see the office disappearing altogether but creating a workforce that can operate without one, certainly seems like the future.
For more information, get in touch with the VCG team today.
Are residential connections up to the strain of supporting homeworking in the long term?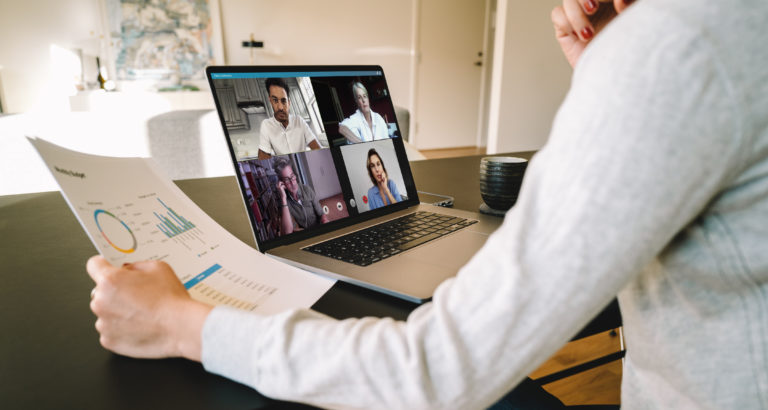 With numbers of people now being asked to work from home regularly, inevitably making vastly increased usage of high-quality video services as well as video-on-demand, there are genuine concerns that overloaded networks will not be able to cope.
For months now we have all endured the frustrations of carrying out business operations over residential connections. We've dealt with the bandwidth battles, the security issues and the downtime that takes forever to resolve.
But is this any way to run your business in the long-term? Not if you need the same kind of reliable, superfast connection you enjoy in the office. Now that homeworking has become the new reality for the foreseeable future, your business and employees, deserve better.
Since the start of lockdown, the internet has become noisier than ever. Figures from service providers show a 30% daytime uplift in internet traffic and a 10% rise in demand for voice as more and more people connect from home, at a minimum. The truth is there is a reason why business broadband connections exist. Business fibre is the only connectivity that can reliably, securely, and cost effectively keep businesses running, so why not use it for your home workforce?
A business-grade internet connection is arguably more important now than it was when we were working at the office. The good news is, however, that it is now possible to access business-grade fibre connectivity for your homeworkers. The even better news is that it is not only cost-effective but may lead to operational savings in the long-term, when you consider all the benefits. One of the main benefits of a line that's utilised just for business is that your employees will no longer be faced with sporadic bandwidth issues from sharing their connections with the rest of their household.
Media hungry content creators and businesses that demand 100% uptime may even adopt a premium business connection, such as a leased line, where traffic is not shared with any other user, ensuring that business-critical applications such as VoIP, video conferencing and email perform at the absolute best.
With the vast amount of data that we now share and handle online, security is a major consideration. So, don't leave your business vulnerable.
Business internet packages typically come with one or more static IPs. This is an important feature for business connectivity because it's easier for Domain Name Servers (DNS) to manage. A DNS is basically an address book for the internet. Every time someone types in your web address (using letters), a DNS service translates it to a corresponding series of numbers (your IP address)
Usually, your computer is assigned a new IP address every time you log on and by assigning dedicated IP addresses to individual devices, you can see who your network's serving and better identify any rogue login attempts. For businesses relying on VPNs, static IPs can add a further level of insight and control. You can also use static IPs to manage fixed assets like CCTV and alarm systems. Plus, they're vital if you want to access your computer remotely or run your own website server.
Business continuity is another key reason for using business connections for your home workforce. If you can't afford for your internet to go down, even for an hour or two, working using residential lines, which come with no guarantees, could be a disaster waiting to happen. This is especially important for businesses that rely on large amounts of data, like law firms, media agencies, and those that are diversifying by connecting to clients online, like gyms offering online PT sessions.
So, are residential connections up to the strain of supporting a homeworking in the long term? The answer is simply no, and the already massive demand for homeworker connections is the proof.
When it comes to working from home – using data, video-calling, communicating online – you need a connection that's built for business, not one that's struggling to support you and everyone else in your home.
For more information, please get in touch with our team today.