Welcome to the freedom of Everywhere
A better journey to the Cloud and managed IT Support experience
At VCG, we believe connectivity is the enabler of powerful digital transformation and business resilience.
We help you balance and simplify connectivity options and access to the Cloud, with integrated connectivity solutions and cloud-based services.
We also aim to create and support a more connected workplace and a seamless interaction with your business-critical applications, on premise or in the Cloud.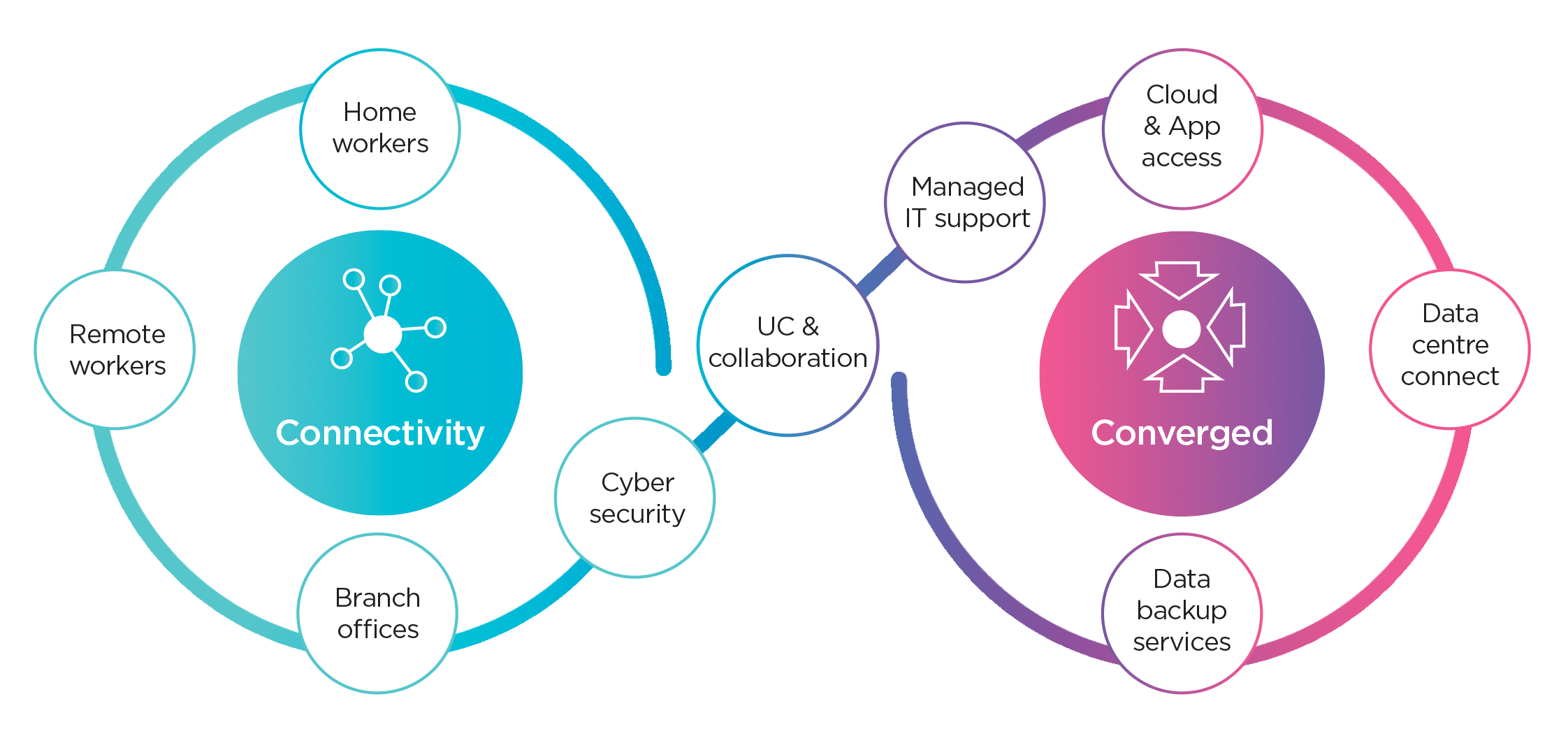 We design, manage and optimise your infrastructure
Whether your business journey means digitising and moving to the Cloud, managing networks or evolving your cyber security posture, data and applications, IT has never been more pivotal to your success in the digital age.
Businesses need agile, efficient and user centric IT that adapts to their fast paced environments. That's why VCG provide easy to consume and cost efficient managed services across our broad range of solutions so that you can scale and flex as your business grows.
Featured case study

Evri (The New Hermes)

Since working with VCG we have opened 17 new sites and deployed 12 'depot in a box' solutions at great speed. The network infrastructure and design architecture in place have helped us grow as a business and expand our network rapidly and securely. They have demonstrated on many occasions that they have the agility to work to our changing demands but during the pandemic, our increased network capacity was truly the evidence for that

Featured case study

Birmingham Chambers of Commerce Network and Collaboration refresh

VCG's approach to doing business with potential clients is exceptional. They invest significant time and resource during the tendering process to understand your business requirements before applying their expertise and experience in offering an optimal solution

Featured case study

Wales & West Housing

VCG partnered with Wales & West Housing to provide secure and visible internet access to their users across all devices, both on and off the corporate network.

Featured case study

Kwik Fit

"VCG is a trusted provider with a great reputation for technical expertise and service delivery. The team is adaptable, very easy to work with and have quickly become a valued partner. The reporting has been strong. When an issue happens, getting people together to resolve it has been quick and effective. The partnership has made a positive impact on our business operations."
Experiencing new ways of driving business in retail: enhanced digital and in-store customer journeys

The pandemic has changed consumer behaviours, some permanently, reshaping the entire retail landscape; many customers have also tried new omnichannel models: buying online, picking up in-store [...]

How SD-WAN can help digital transformation

The pace of digital transformation in the last 18 months has excelled, and the speed of change has delivered the necessity for increased networking capabilities, security and bandwidth to support [...]

Modernising your network post-pandemic

According to a survey of executives by McKinsey Global at the end of 2020, organisations have accelerated the digitisation of their customer and supply chain interactions and of their internal [...]

How a Security Managed IT Service can boost productivity during the home-working boom

Less than a year ago regular home working was a perk enjoyed by just 5% of the UK's 32.6 million workforce. Now, due to Covid-19, remote working is no longer a perk, it's an essential ingredient [...]
Book a free consultation for your business today
Pre Register
Driving productivity in the hybrid workplace