Accelerate customer experience
with cloud contact centre

Accelerate customer experience
with cloud contact centre

Customer experience across multiple channels
Strengthening your customer care in an omnichannel worldl
Exploring the power of data-driven customer experience
Extending customer communication and care options beyond the phone has become the norm.
The growth of digital and omnichannel capabilities increases the potential of outstanding customer
services across multiple channels, such as email, text, web, chat, messaging and social media.
Our contact centre offering delivers seamless integrations with platforms such as Microsoft or Cisco, enables outstanding capabilities across Microsoft Teams, Cisco Webex Calling and BroadWorks. 
Powered by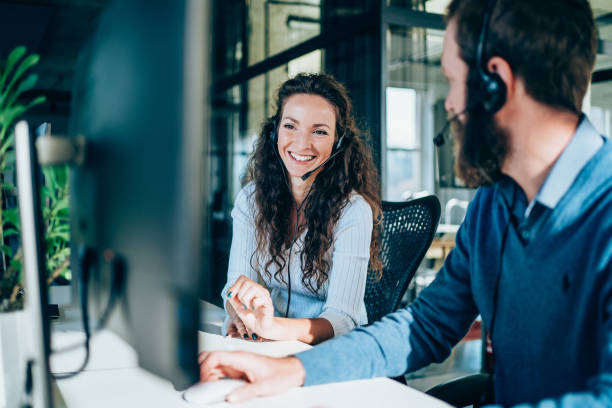 Cloud contact centre for Microsoft or Cisco platforms
Data-driven customer experience
Benefits of implementing omnichannel solutions into your organisation include:
Extending voice to more digital calls and self-service outcomes improve customer satisfaction
Managing multiple contacts through a single interface brings everything together, simplifying operations and increasing efficiency
In-built AI with intelligent call routing enables the matching of customer enquiries to the best contact point or person
Smart customer interaction enables repeat communications to be pointed to the same handler or department
Featured case study

Page Group

VCG have transformed our guest and user experience. It's an un-written rule that users expect fast and reliable internet access, and now we deliver on that expectation. Operating from the cloud means we can manage all EU sites centrally, and protect our investment with integration of new sites in the future.
Bringing calls and team collaboration into a single platform – Microsoft Teams Direct Routing

VCG is pleased to officially announce the capability to deliver direct routing for Microsoft Teams, allowing businesses to integrate calls and telephony services into the Microsoft Teams platform. As [...]

VCG achieve Microsoft Gold Partner status

VCG, a leading provider of IT solutions and managed services, is proud to announce that it has attained Microsoft Gold Partner status in Windows and Devices. By achieving this, VCG demonstrates the [...]

Are your digital networks at greater risk in the age of Covid-19?

It's time for the hospitality sector to learn from the Covid crisis before it's too late. Follow our six-point health check to ensure your networks are fit for purpose and 'work-from-home [...]

Are residential connections up to the strain of supporting homeworking in the long term?

With numbers of people now being asked to work from home regularly, inevitably making vastly increased usage of high-quality video services as well as video-on-demand, there are genuine concerns that [...]

Contactless tech in the driving seat as the automotive sector responds to Covid-19

It's known as the great accelerator. In a socially distanced and locked-down world, Covid-19 is speeding up the adoption of tech-dependent services – and the automotive sector is no exception. [...]
Pre Register
Driving productivity in the hybrid workplace