Managed Services
The IT Department of the Future
DIY, Outsourced, or Managed Services … it isn't obvious.
Author: Roy Reynolds, VCG Chief Information Officer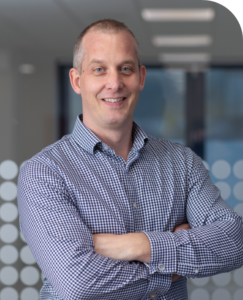 Recent years have seen monumental challenges for IT departments as technology continues to accelerate at pace. Flexible working is replacing traditional models as businesses transform to survive, and the buck always stops with IT.
Ubiquitous connectivity, web-based apps, and secure cloud services mean work is now something we do, not somewhere we go, and connecting to systems at anytime, anywhere, on any device has become the norm – improving employee productivity, with IT departments keeping everything operational and secure.
Skill Shortages, Complex Security, 24-hour Support.
Developing and implementing an IT strategy whilst keeping the lights on is challenging for everyone as a shortage of IT talent affects everyone. Small to medium sized businesses are exposed as IT teams are generally small, and when a team member leaves, a major hole is blown in the staffing resource running the operation – particularly as the lurking and ever-present security threats from cyberspace are ever more menacing and dangerous.
Everything's fine at the moment, but…
When skilled and reliable IT people depart for pastures new, they're very hard to replace. It's the same for our business too, but as an IT services company we have a decent sized team of highly skilled people to cover the workload. The pressure to recruit and replace someone urgently isn't so great – and we can take our time to unearth and hire the best talent, which is a benefit for our customers as well.
Technology is constantly evolving and keeping up to date with the latest advancements takes time and effort. Increased complexity, especially in cyber security, means it's an on-going 'arms race' between criminals and IT professionals. The question is; how long can companies continue to manage security in-house before a serious incident occurs?
Outsource or Managed Services?
Working with a professional IT services partner to supplement in-house resources is becoming the norm, and in my view too many IT companies try to promote full outsourcing above everything else, because of course – it makes the most money for them. But people who've been on the receiving end of an outsourcing pitch usually tell you the same thing … the costs of outsourcing simply don't make sense, and trying to convince a Finance Director that a massive hike in operating costs will actually deliver huge cost saving just doesn't wash!
It's why I believe that a smart use of Managed Services blended with in-house capability makes much more sense. The extent of the managed services needed are obviously determined by the level of in-house skills and resource – and the direction in which the business is heading.
Retailing – a great example
As retailers manage the shift in consumer habits from the high street to on-line, the operational needs of their physical estate are changing. In common with many industries, they need simple, secure, and reliable connectivity to systems and applications that are cloud based. Dedicated connections route traffic 'on-net' to fully protected and monitored internet breakout points at our secure core sites. Business class network connections are utilised at each customer location to speed up service and response times; and even though everything is becoming more complicated – client complexity is reduced as critical functionality is handled by our managed services desks. Customer systems operate seamlessly as everything is monitored and managed on a 24/7 basis by our dedicated tech support team.
We're all heading to the same place
It's been said many times that we are all bound for the same destination – public cloud. It's just a matter of how quickly you decide to get there, and that depends on your business strategy and investment plans. A declining amount of on-site hardware reduces the amount of in-house support needed, but it brings with it a different set of requirements.
Recruitment challenges and the need for operational simplicity mean businesses are increasingly turning to managed services as a cost-effective solution to IT management. Managed service providers (MSPs) have a team of experts available 24×7 – ensuring you always have someone on hand to deal with any problems. Services mostly extend to proactive monitoring of network and systems so any potential issues are detected and dealt with before they become a problem, reducing downtime and improving efficiency.
As much or as little as you need
Managed services are about supplementing your in-house skills with as much or as little help as you need. They include everything from hardware supply, maintenance, software installation, upgrades, network management, security, and technical support. Companies save costs associated with hiring, training, and running a full team, while simultaneously ensuring their technology infrastructure is up to date and running smoothly.
Furthermore, managed services allow organisations to focus on their core competencies and strategic business goals, rather than worrying about the day-to-day issues of IT management. Well-designed and supported systems help companies boost service, build relationships, and create customer loyalty – driving increased revenue and profit.
Businesses need agile user-friendly IT that rapidly adapts to changing environments with easy to consume, cost efficient services that scale and flex as a business grows. Whether your focus is on business transformation, journey to the Cloud, managing networks, cyber security, data and applications, IT has never been more vital to survival and success in the digital age.
If you'd like to know more about our managed services and how we help customers resource and support their IT function – please contact us for an initial, exploratory conversation.