Managed Services
The Retailer of the Future
Technology, Space Cadets, Number Crunchers, and the Public.
Author:  Dan Casey, VCG Director of Customer Operations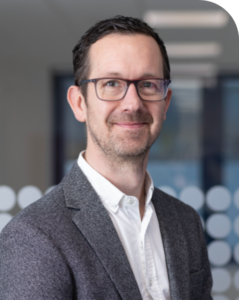 If there's a more challenging sector than retail, I've yet to experience it, and it's hard to conceive of a vertical more affected by technology, fashion, logistics, and global events.
We are bombarded constantly with news about the growth in online shopping as customers abandon inconvenient trips to the High Street in favour of an easier experience. The environmental angle is significant too, as the youth trend for pre-loved items and charity shops has been re-stimulated, supporting the rise of sites like Vinted, that compete with eBay, for items at a fraction of their original cost.
All credit to the retail sector though, for blazing a trail in a number of areas. Being able to check stock availability online or via an app is extremely useful. Wasted journeys to the local DIY store to find the thing you urgently need is out of stock are now history – if you're comfortable with the tech.
Most retail brands now offer an online experience but the actions to compete with new entrants, who have no legacy infrastructure, let alone ruinous fixed costs, have been more 'sticking plaster' than well thought out strategy – because in retailing, nobody is 100% sure of the right strategy.
When marketing departments approach finance with new ideas to turbo charge an embattled business, it feels like blue-sky space cadets versus kill joy bean counters – and that's before the plans are rejected by the techies as too difficult or incompatible with the current systems and set up.
Developing a digital business alongside supply chain complexities puts pressure on the bottom line, and with margins shrinking due to competition, higher costs, and the cost-of-living crisis – the need for smart operational efficiency has never been greater.
Operational Efficiency Imperatives
Back-end technologies are obviously vital, and retailers were early adopters of point of sale (POS) solutions, enterprise resource planning (ERP), warehousing, logistics, and distribution management. But as early systems and platforms become legacy, they increase operational vulnerability and lack the capability and longevity to support the demands of an innovative digital enterprise.
Many systems struggle to link stock holding to online order processing and the product quantities available both in store and online. A lack of consolidated data management across the estate has led to a network of spaghetti connectivity architecture, and for many, the time for action has arrived. To ensure survival in a massively competitive world, businesses must have a data centric approach and an integrated flow of information, with systems connecting all parts of the value chain.
Future-proofing the Supply Chain
Ordering, receiving, and moving goods efficiently is of growing significance as retailers seek to control costs and manage stock holdings, and interestingly, there's a growing belief in the logistical benefit of working with suppliers closer to home. Developing world tensions expose companies to the risk of a supply shortages, with operational leaders avidly monitoring external factors such as geopolitical concerns, wage fluctuations, raw material costs, commodity price fluctuations, and regulatory changes.
A robust and scalable technology foundation enables retailers to rapidly boost performance and introduce new services, but perhaps due to skill shortages or project challenges, many have failed to progress, and are starting to fall behind others who are seizing the opportunities. Bold action is needed by many to transform tech platforms and operating models.
Trading conditions, ethical sustainable behaviour, and geo political instability is doing nothing to bolster market confidence, and reversing the recent negative trajectory requires decisive action with eco-partners who understand the challenges. Business transformation and new operating models supported by underlying technology and connectivity that's built for the future must be introduced to lower operating costs and provide a baseline platform for rapid innovation.
Optimising and leveraging technology to maximise operational efficiency and drive better customer interactions can be daunting. But working with a partner that understands the sector, and can bolster in-house expertise, helps many organisations design and implement future-proof tech platforms for the most demanding new trends.
Supporting Retailers – Working with VCG
VCG's heritage is in supporting the retail sector, and we continue to work with many High Street organisations including Spar Shop Group franchise, British Heart Foundation, Poundland, and many others. Our core figure of eight network with global interconnection 'points of presence' (PoPs) in London, Leeds, and Manchester enables customers with multi-site estates to simplify and secure their network and connectivity. Private internet connections ensure traffic is routed 'on-net' whenever possible, using fully protected and monitored internet breakout points at our highly secure core sites.
This reduces the need for vulnerable broadband connections at each retail location, and provides business class networking to speed up service and response times. And as threats from cyberspace increase, robust protection of systems and infrastructure becomes more challenging and complicated.
We reduce the level of client complexity by absorbing critical functionality into our managed services desks, so customer systems operate on a 24/7 basis in the sure knowledge that everything in being monitored and managed at all times, especially out of hours, by our dedicated tech support team.